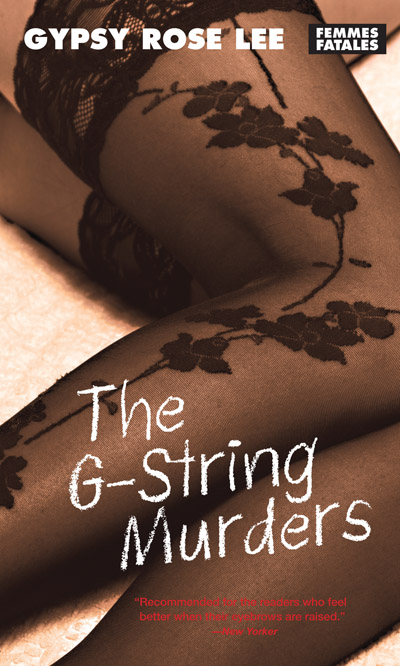 The G-String Murders
Gypsy Rose Lee
A witty whodunit amongst the burlesque demimonde.
 
Afterword by Rachel Shteir
A mystery set in the underworld of burlesque theater, The G-String Murders was penned in 1941 by the legendary queen of the stripteasers—the witty and wisecracking Gypsy Rose Lee. Narrating a twisted tale of a backstage double murder, Lee provides a fascinating look behind the scenes of burlesque, richly populated by the likes of strippers Lolita LaVerne and Gee Gee Graham, comic Biff Brannigan, and Siggy the g-string salesman. This is a world where women struggle to earn a living performing bumps and grinds, have gangster boyfriends, sip beer between acts and pay their own way at dinner.

Femmes Fatales restores to print the best of women's writing in the classic pulp genres of the mid-twentieth century. From mystery to hard-boiled noir to taboo lesbian romance, these rediscovered queens of pulp offer subversive perspectives on a turbulent era.
"Burlesque is the background . . . [and] the background is perfect. Recommended for the readers who feel better when their eyebrows are raised." —The New Yorker

"[Lee's] novel is a rich and lusty job, brimming over with infectious vitality and a hilarious jargon of her own." —Life

"A lurid, witty and highly competent detective story . . . Rich show business vocabulary and stage door gags make her book almost a social document. . . . The G-String Murders build up to a hair-raising climax." —Time