FP Staff Picks: Controversy-Causing Classics
When The Naked Woman was originally published in 1950, critics doubted a woman writer could be responsible for its shocking erotic content. In this searing critique of Enlightenment values, fantastic themes are juxtaposed with brutal depictions of misogyny and violence, and frantically build to a fiery conclusion.
Team FP put on our thinking caps to gather a list of our most-beloved feminist essentials that caused a stir. From Borderlands/La Frontera to The Well of Loneliness, here are our favorite controversy-causing classics.
Borderlands/La Frontera: The New Mestiza
by Gloria Anzaldúa (Aunt Lute Books)
This collection of essays and poetry was part of a Tucson Mexican-American Studies curriculum prohibited in 2010 when Arizona passed HB 2281, a bill restricting classes that "are designed primarily for pupils of a particular ethnic group," or "advocate ethnic solidarity instead of the treatment of pupils." HB 2281 was blocked in 2017 by Judge A. Wallace Tashima, who found the ruling discriminatory and unconstitutional.
—Hannah, Outreach & Operations Manager
by Kate Chopin (Herbert S. Stone & Co.)
Published in 1899, Chopin's novel was considered immoral for its frank depictions of female sexual desire and rejection of societal norms. In one particularly harsh review, The Nation wrote "we need not have been put to the unpleasantness of reading about her."
—Lucia, External Relations Manager
by Radclyffe Hall (Jonathan Cape)
Published in 1928, The Well of Loneliness incited public outcry for its depiction of lesbian romance and the social rejection and isolation lesbian women face in society. Upon its release, it was ruled obscene by a British court and was the target of an angry crusade by James Douglas of the Sunday Express who famously said he'd rather feed a child acid than have them read Radclyffe Hall's book. The Well of Loneliness has since become canonical in gay and lesbian literature, and continues to inspire heated debate and discussion among queer scholars and literary critics alike.
—Jamia, Executive Director and Publisher
by Alice Walker (Harcourt)
Despite winning the National Book Award for Fiction and Pulitzer Prize for Fiction in 1983, making Alice Walker the first Black woman to win the prize, the book is not without controversy. It is 17th on the American Library Association's list of most frequently challenged or banned books for its "racism," sexual explicitness, explicit language, violence, and homosexuality. Honestly, what's more controversial than Black women loving Black women?
by Louise Fitzhugh (Harper & Row)
Harriet has been banned from schools and libraries because it apparently sets a bad example for children by encouraging them to "lie, spy, back-talk and curse." Harriet's high-top sneakers and status as an outsider have also long resonated with the queer community.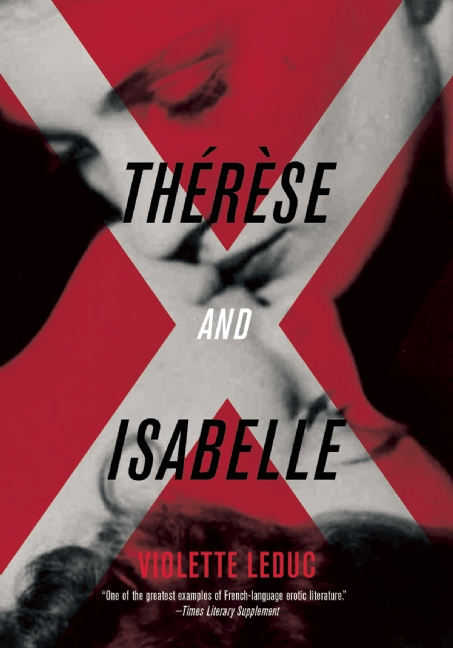 by Violette Leduc (Feminist Press)
First written in 1955 as part of a larger work, Thérèse and Isabelle was repeatedly rejected by French publishers due to its erotic lesbian content. While a censored version of the schoolgirl romance was eventually published in 1966 and translated into English, it took until the year 2000 for the fully unabridged text to be published in France, 2012 for the updated English translation.
by Han Kang (Hogarth Press)
Published in Korea in 2007, The Vegetarian tells the story of a woman who decides to stop eating meat and the consequences it has on her husband, family, and herself. The book was controversial due to its intense, explicit descriptions of the violence that comes when women go against what society deems acceptable.
If Not, Winter: Fragments of Sappho
by Sappho, translated by Anne Carson (Penguin)
For centuries, scholars have been arguing over the painfully few extant fragments of Sappho's poetry. Do the writings of this famous daughter of Lesbos express queer desire between women, or were Sappho and her comrades just *really* good friends? The history of this controversy, fueled by massive gaps in the surviving knowledge of her life and work, is a fascinating reflection of the cultural norms and literary values of any given era.
—Sophia, Development Manager
by Bei Tong (Feminist Press)
Between its gratuitous sex scenes and frank depictions of economic and state corruption, Beijing Comrades elicited outrage when it was first published online. It was never published in mainland China, and only a heavily censored version was available in Taiwan.
—Jisu, Marketing, Sales, and Publicity Manager
What are your favorite wave-making feminist reads? Tweet us @FeministPress and we'll add you to the list!