FP Staff Picks: Original Plumbing
Independently published from 2009 to 2019, Original Plumbing grew from a Bay Area zine to a nationally acclaimed print quarterly dedicated to trans men. For nearly ten years, the magazine was the premier resource focused on their experiences, celebrations, and imaginations, featuring writing on both playful and political topics like selfies, bathrooms, and safer sex; interviews with queer icons such as Janet Mock, Silas Howard, Kate Bornstein, and Ian Harvie; and visual art, photography, and short fiction.
In celebration of the magazine's ten-year run, this essential collection compiles the best of all twenty issues. Selections are reprinted in full color, with an introduction by activist Tiq Milan and a new preface by the founding editors.
Here, the FP team highlights some of our favorite issues and gives you a sneak peek inside the book!
"Brave enough to be exactly who they are and fearless enough to take a stand for what they believe in, all of the people in this issue are [our] heroes." —Editors' note
Why I love it: From Kate Bornstein to Janet Mock, I'm inspired by the legends who shift culture and create change—big and small. The Hero Issue honors exactly that.
Part that stuck with me: Kate Bornstein has such brilliant and wise insights into life, politics, and social movements, and she carries her opinions with such love and joy for her communities.
"Issue #1 is the Bedroom Issue. What better way to get to know someone than to hang around in their personal space and ask them questions while they lounge in next to nothing?" —Editors' note
Why I love it: The issue that started it all! The Bedroom Issue sets the tone for the nineteen issues to come with cheeky interviews and photos.
Favorite article: The text message interview with Tuck.
"Please enjoy this 12th issue, our homage to nightlife. Even on our darkest days, we always work hard to find something that's worth celebrating!" —Editors' note

Why I love it: The Party Issue is a sexy, celebratory, and uplifting ode to nightlife as a fixture of queer and trans community-building. Plus, all the collages of photos from different parties!

Part that stuck with me: I love D'hana Perry's interview—it's cool to hear about a spot in Boston (Midway Café) I used to go to before moving to New York. I also liked hearing Perry's perspective on creating intentional nightlife spaces that are sexy and political all at once.
In lieu of an editors' note for this issue, Amos and Rocco's mothers write letters to each other!

Why I love it: I loved the Family Issue for its sweet and nuanced exploration of the diverse ways families are built and maintained: through genes and through affinity, with children and without, by adoption, fostering, and pregnancy.
Part that stuck with me: What really drew me in was the series of letters exchanged between the editors' moms, who connect over their shared family journeys and their utter adoration of their sons!
"If only OP was 1,000 pages long, you'd be able to see the vast love and respect [trans men in Atlanta] have for each other and the authentic, diverse community that exists in ATL." —Editors' note
Why I love it: The first and only city-specific issue, The Hotlanta Issue is feels like a precious time capsule of a particular place and its vibrant communities.
Part that stuck with me: Reading the men of ONYX's definitions of "community" hit the issue home for me. And the amazing photos.
"In this issue you'll enjoy a portfolio featuring some of the most groundbreaking poets in our community right now, words of publishing advice, interviews with some literary darlings, notes on how to get over writer's block . . . and a ton more." —Editors' note
Why I love it: There's nothing like reading about literature in a full-color book that was originally a magazine.
Part that stuck with me: Lynnee Breedlove's advice to young writers, in list form. "Create content. Do shit," he writes. The whole article is a hilarious and heartfelt gesture to a new generation of writers and artists—this, to me, is what OP is all about.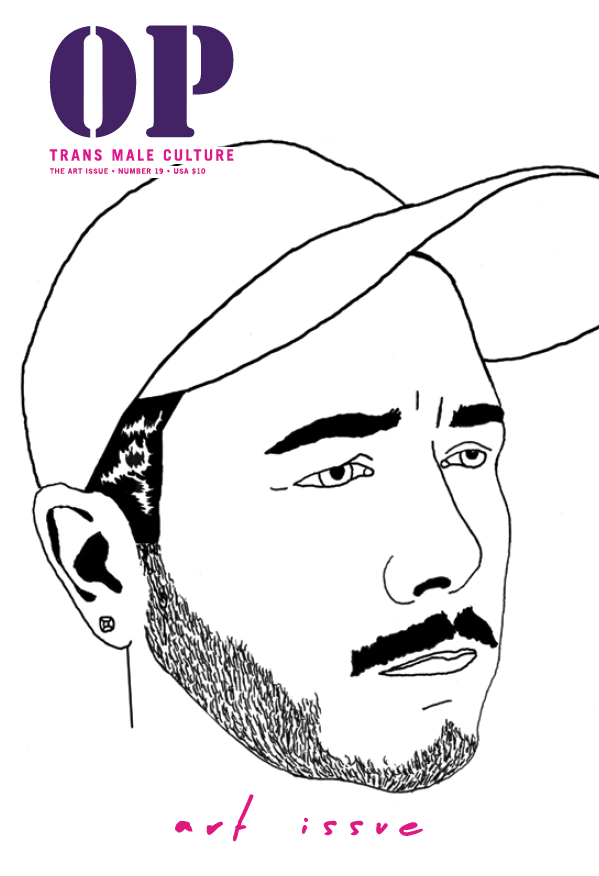 "For those of us who are part of a marginalized community, the artist is . . . a documentarian. They are the messengers of hope, the illuminators, the mouthpiece of the revolution." —Editors' note
Why I love it: It's filled to the brim with amazing, cutting-edge art from a wide array of visual and performance artists. The second-to-last issue of OP, it's also a huge benchmark for how much the magazine had developed and grown into its own political voice.
Part that stuck with me: In all of the pieces featured in the issue, I'm inspired by hearing about the artists' processes—how they use stories and histories to create their work, and how they approach art as a mode of activism.
What's your favorite issue of OP? Tweet at us @FeministPress to share your pick!