Celebrate #SmallBusinessSaturday with these 🎊💯↗️ Indie Bookstores
This Saturday, get thee to a bookstore!
I was only in Minneapolis for a freezing 24 hours, but my visit to Milkweed was a highlight: friendly staff, lots of local literary folk hanging out, & beautiful space and displays. (Milkweed is located in Open Book, a seriously f@#king cool literary arts center downtown.) Plus, great bookseller recommendations! (Thanks Celia!)
Last bookstore purchase: The Doll's Alphabet by Camilla Grudova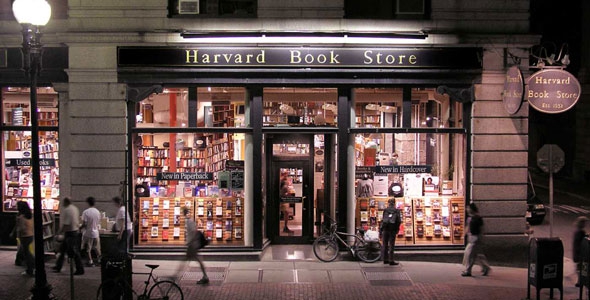 Victoria on Harvard Book Store
Cambridge, MA
Harvard Book Store is always the (often unconscious) destination of my walks around Harvard Square in Cambridge. Don't be fooled by the "Harvard" in its name; open since 1932, this bookstore's used book section is incredible - not to mention going down the stairs to the basement to find it gives you that magical-book-loving-coffee-drinking-blissful-intellectual feel. It sells cheap books on the corner and new books upstairs.
Last store purchase: Dostoevsky's Notes from the Underground (subsequently read by the Tanner Fountain on Harvard's campus)
Minneapolis, MN
Owner Collette once described herself as a "curator of delight". There is nothing that encapsulates what she's done with Wild Rumpus better. Walking into the store—whether by the adult door or the smaller child's door—brings to life the magical wonder and infinite possibility of books, especially for a young reader.
Last store purchase: The Name of The Wind by Patrick Rothfuss and The Mudstone Trilogy: A Novel by Mal Peet
Lucia on Gulf of Maine Books
Brunswick, ME
Gulf of Maine Books is one of the best places on earth. They have a great selection of new and classic titles, plus some very witty radical bumperstickers. I always hope I'll bump into Brunswick local Elizabeth Strout when I'm in there. I haven't, yet.
Last store purchase: Love by Toni Morrison
Sophia L on Yellow Dog Bookshop
Columbia, MO
Yellow Dog is right in the middle of downtown Columbia, and have some of the cutest window displays throughout the year! More than that, they sell every type of book you could ever want or need: old paperbacks, local authors, new hardbacks. If you want, they have it somewhere.
What's your go-to bookstore? Let us know on twitter #ShopSmall