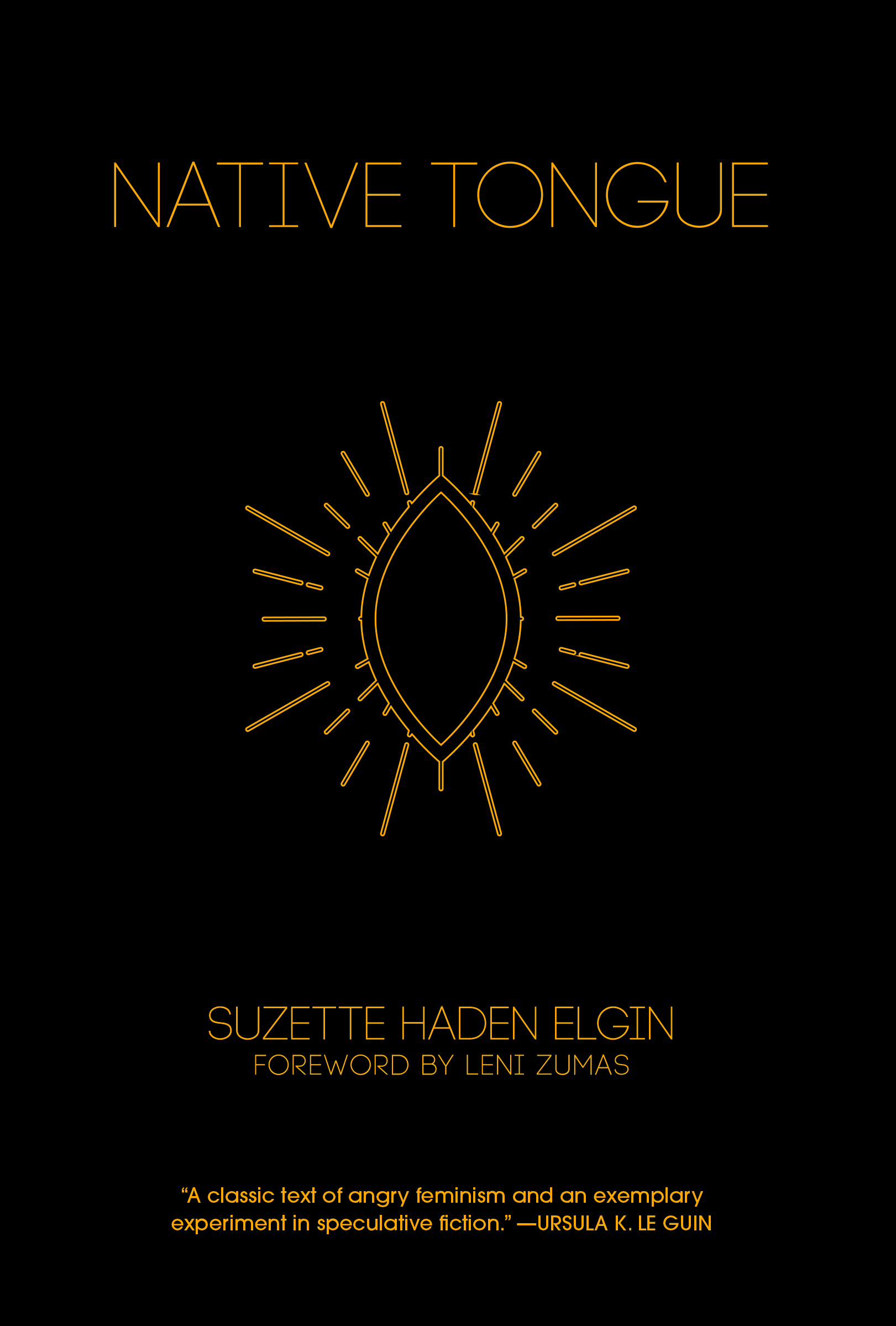 Native Tongue
Suzette Haden Elgin
In this feminist science fiction classic, a secret language holds the power to overthrow patriarchy.

Foreword by Leni Zumas
An instant classic upon its publication in 1984, this dystopian trilogy is a testament to the power of language and women's collective action—in a new edition reissued for a new generation of readers.
In 2205, the Nineteenth Amendment has long been repealed. Men hold absolute power, and women are only valued for their utility. The Earth's economy depends on an insular group of linguists who "breed" women to become perfect interstellar translators until they are sent to the Barren House to await death. But instead, these women are slowly creating a language of their own to make resistance possible for all. Ignorant to this brewing revolution, Nazareth, a brilliant linguist, and Michaela, a servant, both seek emancipation in their own ways. But their personal rebellions risk exposing the secret language, and threaten the possibility of freedom.
"This angry feminist text is also an exemplary experiment in speculative fiction, deftly and implacably pursuing both a scientific hypothesis and an ideological hypothesis through all their social, moral, and emotional implications." —Ursula K. Le Guin
"A welcome reminder of the feminist legacies of science fiction. . . . Explores the power of speech, agency, and subversion in a work that is as gripping, troubling, and meaningful today as it has ever been." —Publishers Weekly (starred review)
"This carefully crafted, fascinating dystopia is a call to action even decades later, and highlights the importance of language and its uses in politics of power." —Booklist (starred review)
"Extremely relevant." —Bookforum
"Native Tongue brings to life not only the possibility of a women's language, but also the rationale for one. . . . [It is] a language that can bring to life concepts men have never needed, have never dreamed of—and thus change the world. Elgin never makes the mistake of easy utopianism or over-optimism. Her women revel in patience." —Village Voice Literary Supplement
"Less well known than the The Handmaid's Tale but just as apocalyptic in [its] vision . . . Suzette Haden Elgin's Native Tongue . . . records female tribulation in a world where . . . women have no public rights at all. Elgin's heroines do, however, have one set of weapons—words of their own." —Sandra M. Gilbert and Susan Gubar, New York Times Book Review
"A pioneering feminist experiment." —Literary Hub
"Published in 1984, Native Tongue got it right. In the power and precision of language, women can begin to change the world." —Maggie Shen King, author of An Excess Male
"A necessary and exhilarating book." —4Columns
Interested in teaching this book in your classroom or reading it with your book club? Download an educator's guide and discussion questions for Native Tongue here!