Chasing the King of Hearts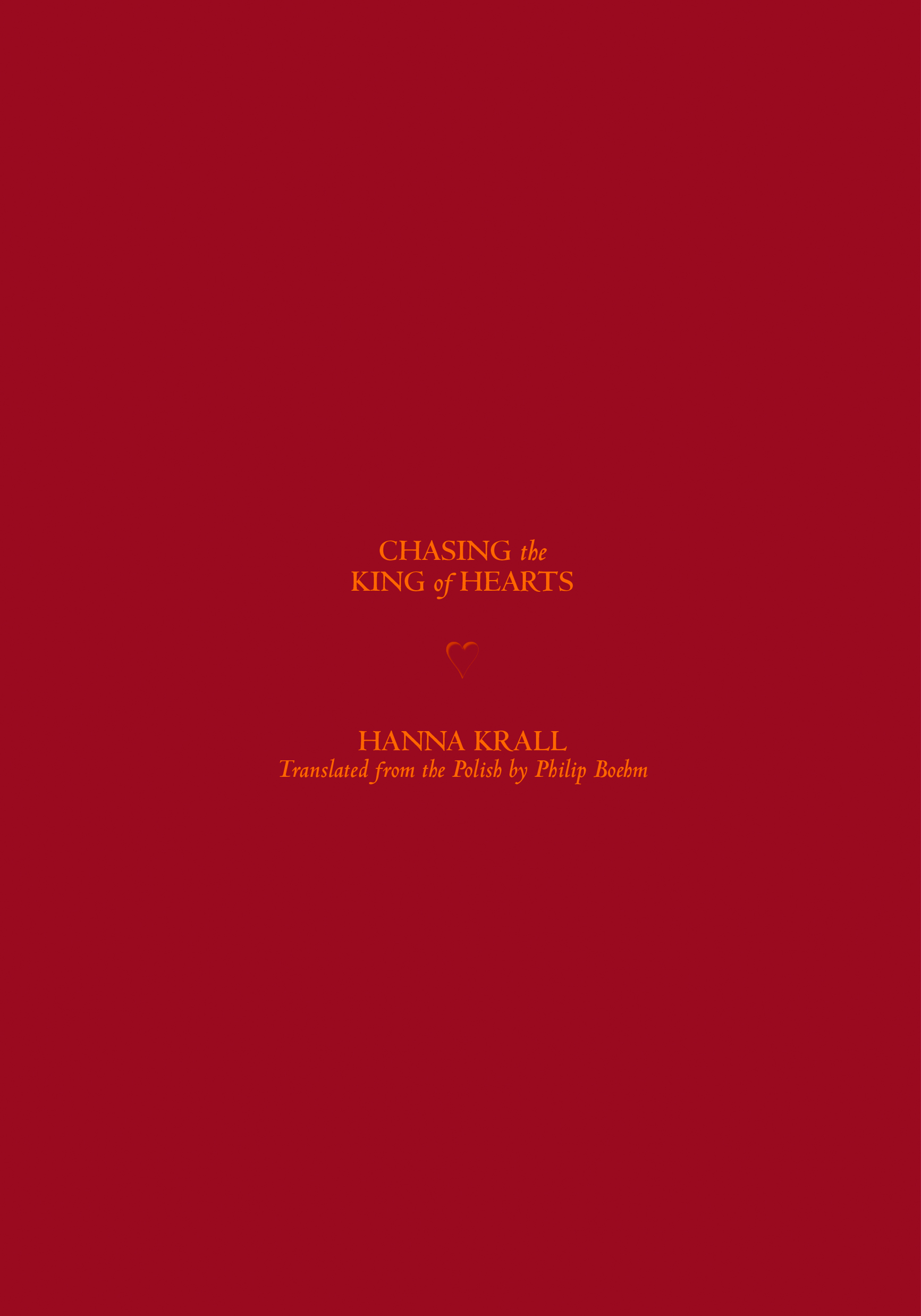 Chasing the King of Hearts
Hanna Krall
When her husband is arrested in Nazi-occupied Poland, Izolda endures unending brutality to ensure his safety.
Translated by Philip Boehm
Afterword by Mariusz Szczygiel
In this canonical work of Polish reportage, Hanna Krall crafts a terse and unexpected human lesson out of a Holocaust novel and occupation-era love story. Based on a true story, the raw interplay of history and fictionalization spans the Warsaw Ghetto, the war-torn countryside, and the nightmare of Auschwitz, and won the English PEN Award and the Found in Translation Award.
Winner of the 2018 PEN Translation Prize
One of Publishers Weekly's Best Books of 2017
"The prose never once seems out of the author's control, displaying precisely the serious artistry required to elevate and illuminate such harrowing material."—Publishers Weekly (starred review)
"Krall's unique voice... dominates this detached, surreal, curiously playful tale of a woman of indefatigable resourcefulness trapped between history and her heart. A quirky but exceptional story of infinite love and life-sustaining commitment." —Kirkus Reviews (starred review)
"Hanna Krall brings Izolda R. to life through dry, factual, rhythmic prose—a litany whose cumulative effect powerfully endears her to readers." —Slavenka Drakulić, author of S.: A Novel about the Balkans
"A stirring and powerful document that, while marvelously concise, stands at the crossroads of the horrible history of humanity in the twentieth century." —Eric Alterman, author of What Liberal Media?
"We are sucked in by the devastating charm of Krall's art... Chasing the King of Hearts is not only a love story and a Holocaust novel. Its deep and intimate inquiry is the mystery of personality – in other words, spiritual survival in a fateless universe... Quirky and powerful treatments of the Holocaust exist in recent literature and film, but Krall's joyous and wise [protagonist] gets under your skin in ways both subversive and uplifting. Thanks to... Philip Boehm's glorious translation, you now have in your hands a masterpiece." —The Guardian

"This strange unsettling novel...is a remarkable find... The style is bluntly simple, like the affectless telling of a fable. The reader is held at a distance by a tone that is so studiedly neutral as to be almost jaunty, yet because it is relating the most appalling atrocities it becomes the more affecting." —The Sunday Times

"An arresting style that rises in remarkable fashion to the challenge such a history poses to any narrator, combining steely lyricism with a thriller's tension." —The Independent