In the Name of Friendship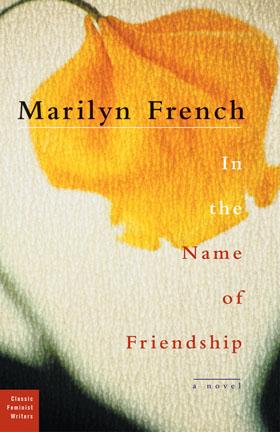 In the Name of Friendship
Marilyn French
Updates Marilyn French's classic The Women's Room to explore the realities of contemporary women.
Hardcover ISBN: 9781558615212
Paperback ISBN: 9781558615205
Publication Date: 02-01-2008
Afterword by Stephanie Genty
Set in Massachusetts' Berkshire Mountains in the landmark year 2000, an intertwined portrait of four women whose personalities vary as much as their circumstances and ages. Each weathers family crises while collectively forging friendships that help transform their lives.
"Without . . . romanticizing women's friendships, she shows them to be the saving grace of civilization." —Gloria Steinem, author of My Life on the Road
Marilyn French is "brilliant . . . full of life and passions that ring true as crystal." —The Washington Post
"French brings a novelist's eye, a scholar's sense of detail, and a feminist's worldview . . . [this is] a novel for women with a progressive perspective on gender bias and an old-fashioned fondness for discussing the curveballs life lobs." —Publishers Weekly
"French continues to write about the inner lives of women with insight and intimacy." —The New York Times Book Review
"This finely detailed group portrait . . . [celebrating] women's cherishing friendships and creativity offers striking observations about how and why women's lives have improved and suggests that . . . it's time to bring progressive ideas . . . out into the light." —Booklist