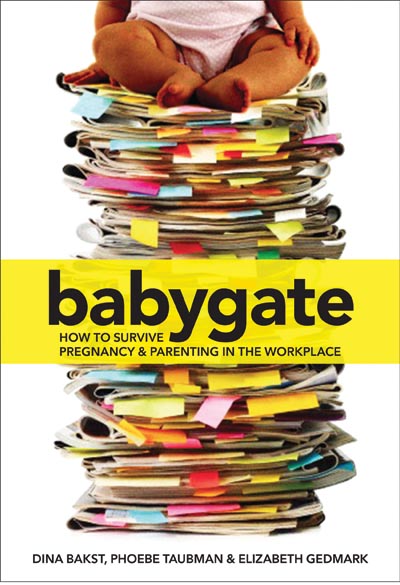 Babygate
Edited by Dina Bakst, Phoebe Taubman, and Elizabeth Gedmark
An essential guide to navigate the workplace during pregnancy and early parenthood.
In Babygate, three legal experts share practical tips, real-life stories from moms and dads, and key legal information to spotlight the protections expecting and new parents have (and don't have) in the workplace. This step-by-step guide covers everything from morning sickness to maternity leave to confronting discrimination on the job. With sample letters, documentation guides, and complete resource list.
 
"Any mother-to-be who buys What to Expect When You're Expecting should pick up a copy of Babygate to go with it. It offers indispensable advice to allow working parents to stay on the job and is a blueprint for change in the coming work–family revolution." —Anne-Marie Slaughter, author of Why Women Still Can't Have It All

"A Better Balance, one of the outstanding defenders of parents' legal rights in the United States, has given us an indispensable guide with Babygate. No new parent should leave the hospital without it! —Ann Crittenden, author of The Price of Motherhood

"If you're a working parent, you need Babygate—an invaluable and humane guide for expecting and new parents about their legal and economic rights in the American workplace. The information in its pages will provide answers to your most important questions and empower you to stand up for yourself and working families." —Katrina vanden Heuvel, editor and publisher of The Nation